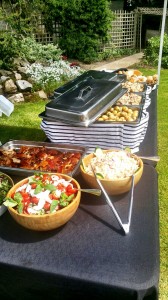 From our humble beginnings almost 30 years ago, we have gone on to become Cumbria's premier provider of hog roast catering service across the whole county. Our enduring passion for what we do, our use of only the best ingredients and equipment, and the skill and dedication of every member of our ever-growing team, are the 3 key factors that set us apart from our competitors. We realise that we must constantly develop to stay at the top of our game, and we don't believe in keeping our service and menus set in stone. Over the years we have evolved from simply providing unbeatable hog roasts, to also supplying complete catering packages with menus to match all occasions, budgets and diets.
Catering In Any Location
The great thing about how we operate is that even though Cumbria has such a varied landscape, nowhere is off limits for us. Our equipment is designed to be transported and used just about anywhere, and whether we are cooking on the coast, by a lake, up in the hills or at an indoor urban event, the consistently high quality of our food never alters.
It isn't just our equipment we have to thank for this level of flexibility though; we couldn't provide the service we do in all of these diverse locations, if it wasn't for our extremely experienced, focused and versatile catering team, whose professionalism never falters regardless of where they are cooking in.
When reading about us you will find that alongside our delicious food, it's our fantastic catering team that we have to thank for how far we have come and what we have acieved in our years.
Hog Roast Menus For Any Occasion
Our menus are as varied as our catering locations, with options to please everyone, including non-meat eaters and people with specific dietary requirements. Of course, our traditional hog roast buffets will always be extremely popular for low-key family gatherings and large-scale outdoor events, but our range extends much further than that.
We offer several different wedding menu options depending on the size and formality of your reception, as well classy corporate menus and an extensive range of private party menus. If required we can provide starters and desserts for a 3-course meal complete with table service, mouth watering canapes served by our own front of house staff, and alternative meats, vegetarian options and gluten-free substitutes for all of our menus, along with salads and side dishes to compliment the main course.
Whatever you choose, everything is freshly prepared at your venue by using the finest locally-sourced ingredients Cumbria has to offer.