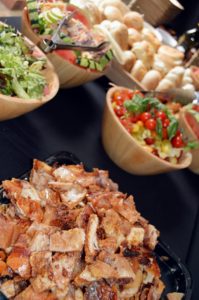 If you are looking for the most experienced catering team to provide delicious food for your next party or event, you can stop looking now! Hog Roast Penrith can provide a selection of foods that is perfectly tailored to your requirements and those of your guests.
We prepare all foods on-site using only the best ingredients and, of course, the piece de résistance, the roasting and carving of the hog itself! Our trained chefs are more than capable of cooking and serving the perfect hog roast for you and your guests – we guarantee that you will not be disappointed as there is no better way to wow your guests and kick-start your party or event.
Hog Roast Catering for all Occasions
Our team are highly experienced in catering for events, parties and celebrations of every size. No matter what type of event you are organising, you will need to ensure that the catering you choose is of the best quality and most importantly, that there's plenty of it!
With a hog roast, you can be guaranteed that your guests will go home with wide smiles and full stomachs. If you're planning to have a hog roast feast for your wedding, Hog Roast Penrith can add that extra special touch when it comes to the food you serve to your guests. With a fine buffet of roasted meat, salads, sauces and breads – your guests will be spoilt for choice! So for any event or party in the Penrith area, call us to discuss your requirements and let us take the stress out of addressing your catering needs.
Hiring a Hog Roast Machine in Penrith
Would you like to be a bit more involved when it comes to your event catering? Why not get in on the action and try your hand at roasting your very own hog? Hog Roast Penrith can provide you with an easy-to-use hog roast machine along with a gas bottle and all of the necessities that you'll need to create your very own hog roast feast.
You can choose one of our freshly prepared hogs or provide your own – whichever you prefer! Our helpful staff can answer any questions you may have before you get started so call us today.